The large mining cavity "Alter Abbau" was created in the Middle Ages by the extraction of minerals and was used until the early modern period. Its middle level is particularly interesting from an archaeological point of view, since many traces of mining work have been preserved.  Getting there and documenting the traces is very difficult because it is divided by numerous massive boulders and also the backfilling. After all findings had already been documented, an unexpected find in a remote corner caused a surprise. At first, a round wooden disc and numerous pieces of wood were noticed, which on closer inspection turned out to be staves. Such staves were used for centuries to make wooden vessels such as troughs, dishes and buckets.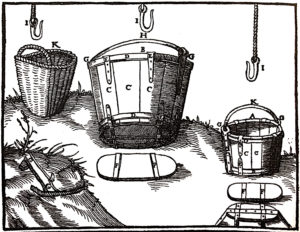 A stave vessel has a round base plate around which the individual stave boards are mounted. They are held together by bands around them. In our case they were made of metal and already heavily corroded. Wooden vessels of this kind were a daily commodity in the Middle Ages and therefore not unusual underground. Another find, however, provided an indication of the very special use of this vessel, especially when the remoteness of the corner behind a large boulder is taken into account. A small cloth was lying next to it, ready to hand.
Certainly the miners needed a place to relieve their themselves, because leaving the mine several times a day was not an option at great depths. While above ground moss and leaves could take over the function of toilet paper – as archaeologically proven at the medieval Johanneser Kurhaus smelting place in Clausthal-Zellerfeld – a piece of cloth had to be used underground for urgent needs.