In the holdings of Bergbau Goslar GmbH, there are numerous  mine plans that affect the Rammelsberg. About 400  mine plans document the historical situation of the cavities in the Old Deposit. The oldest  mine plans date back to the 17th century. In addition to a few large general cracks, which show the entire open pit building of a time, there are numerous detailed  plans for a specific purpose. In these, a few selected mine cavities are shown in great detail, which were important for a very specific mining aspect, such as water drainage or weather control.
In order to be able to compile these individual  mine plans with their varied information and route sequences in a Geographic Information System (GIS), they first had to be digitised.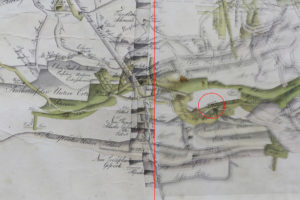 Conventional scanners could not be used for the digitisation. The  mine plans are too large and above all too fragile for this. Therefore, they were photographed with numerous close-ups. However, the individual photos cannot simply be  combined together like a panorama. Due to the unevenness of the carrier material and the distortion of the camera lens, the lengths of the drawn lines would be distorted in different ways (see figure). Therefore, a three-dimensional image of the mine plans was created from the photos by means of photogrammetry, with all folds and creases. A vertical photo of the flat 3D model finally shows the lengths without distortion and without errors. They can now be used for further analysis.
A total of 50  mine plans were digitized in this small side project, which are related to the three selected pit areas of the project.