The Upper Harz Mining Museum houses a large collection of photographs and negative plates, some of which date back to the 1860s. Together with a collection of graphics and paintings, they form a comprehensive archive of the visual tradition of the Harz Mountains. Some of these image sources had already been digitized since the mid-1990s, but had not been published online since then. In the project Altbergbau 3D, Manuel Dold from Hamburg, a former editor of the collection, has been won over to fill this gap.
So far (as of 21.11.2019) a total of 1154 digitised images have been made available online. For the scientific work in the Altbergbau3D project, the versatile image material serves as an important reference for evaluating the current condition of objects and features as well as the terrain situation.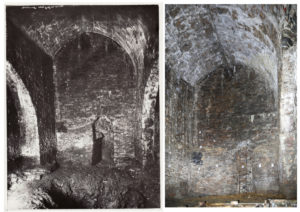 The digitized images are available at https://vzg-easydb.gbv.de.
The Museum for Technology and Cultural History and today's UNESCO World Heritage Information Centre was founded in 1892 as the "Upper Harz Museum". Until 1972 it was the district museum of the Zellerfeld district. Since 1929, exhibition houses with an exhibition mine and an open-air museum have been set up to convey the working and living environment of a population whose sole livelihood was mining for silver-bearing ores. Built up over 125 years of voluntary and professional museum work, it is the central museum for the cultural history of the seven free mining towns of the Upper Harz Mountains. The rich collection on mining culture focuses on historical technical models of the mining school and mining academy – today's TU-Clausthal, mining art and culture, show silver, coins and minerals. The Harz Library contains written material and an important collection of special literature.